Reliable Bathroom Remodeling and
Slab Leak Repair Services On the Treasure Coast
Need to remodel your bathroom or repair a slab leak on the Treasure Coast? Our remodeling department can handle all of your renovation needs. Do you have a kitchen or bathroom that needs to be remodeled? What about replacing the water pipe to your whole house? Give us a call for a free estimate! We will be glad to send out one of our experienced technicians to give you an estimate. As a company, we also have access to other professionals to help you with every aspect of your project including tile, cabinetry and painting. Imagine making one phone call and your whole bathroom remodel in Stuart or Palm City is taken care of!
Superior Bathroom Remodeling Services
If you want to work with a professional bathroom remodeling service for your project, then look no further. We have been in the new construction field for over twenty years AND specialize in the commercial, residential and large custom home markets. Our company can assist in all phases of new construction from the under ground plumbing to installing your fixtures, as well as whole house recirculating systems and inside rain water systems. We feel our work is above the standard industry. Call us today to arrange for an estimate.
Need Slab Water Leak Help?
If you've noticed an unusual spike in your water bill and have noticed damage to your flooring you may have a slab leak.  The good thing is we can locate the leak and repair it for you.  We work have qualified leak detection professionals, so you can rest assured that we'll find the leak quickly.  We can help you, no matter how old your home is.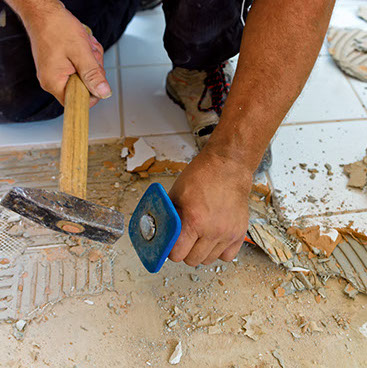 Serving Stuart, Palm City, Jupiter, Port St. Lucie and North Palm Beach County
Taking on any home renovation is a project. That's why it's a good idea to work with a professional that you can depend on.  When you use our services in Stuart, Palm City or Northern Palm Beach County you'll get timely and affordable remodel services from a plumbing company with years of experience.  Call us today. You'll be happy that you did.